Vinyl siding is affordable, easy to install, lasts for years, and requires very little maintenance. So it is no wonder why this versatile material has established itself as one of the most popular siding materials in the U.S. If you've decided you want to install vinyl siding on your home, you're probably aware that there are many options available– so to help you have a better understanding, here's our guide to different types of vinyl siding:
Type and Style
When discussing vinyl siding, the words "type" and "style" are often used interchangeably. This can cause confusion because "type" can also refer to the siding material. However, if we just stick to vinyl siding and ignore the other types of siding materials, there are still many types– or styles– on the market.
The wide range of options available by popular siding manufacturers– like James Hardie, Royal Building Products, and Mastic– can be intimidating, especially if you are unfamiliar with the technical terms used to describe them. So. let's take a look at the different installation configurations of vinyl siding and the features that distinguish one style of vinyl siding from another.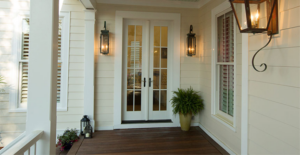 Horizontal Siding
Horizontal siding is a classic style that existed long before vinyl siding existed. With the broad category of horizontal siding, there are several distinct styles:
Clapboard vinyl siding consists of horizontal boards of vinyl nailed to the side of the house in a way that mimics wood-faced houses from the colonial era. The bottom of each panel overlaps the one below, providing a good level of water resistance. Clapboard is sometimes called "lap" siding, short for "overlap."
Traditional lap is another type of horizontal siding. Like clapboard, the bottom of traditional lapboards overlaps the board below. The difference, however, is that the planks are narrower at the top than the bottom, accentuating a shadow to create a more marked pattern. This style is excellent at protecting inner walls from water, making it a popular choice for homeowners that experience seasons of wavy rain.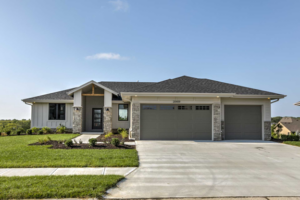 Vertical Siding
Vertical siding has been growing in popularity over recent years. This configuration was used initially for barns and farmhouses, so installing vertical siding will give your home an unmistakable rustic look. However, if going completely vertical isn't the look you're aiming for, incorporating it into some regions of your home's exterior, like entryways, gambles, or dormers, can create a striking contrast, enhancing the appearance of your home.
Board and batten is the most typical style of vertical vinyl siding. This style consists of long, wide vinyl planks installed side by side, with the gap between each plank covered by a narrow plank or "batten." This style takes longer to install than the traditional horizontal siding, so it costs more. However, vertical siding provides excellent protection against rain and bad weather.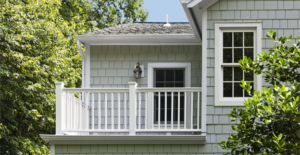 Other Types of Siding
Shake siding is a traditional option, originally made from a piece of wood split by hand from a block of lumber. Since this process is expensive, imitation shakes/shingles made from vinyl can be used as an affordable alternative. Vinyl shakes create an attractive rustic look, with protection from the vinyl material.
Scalloped siding is similar to shake siding, with a rounded bottom. Each row is staggered with the row below, providing extra protection against water.
Log-style siding can be horizontal or vertical, as long as the vinyl material replicates a real wood log. This style is perfect for those who desire a log-cabin home but aren't interested in the high cost or upkeep required for real wood logs.
As you can see, vinyl siding comes in several shapes and styles, so if the affordability and convenience of using this material for your home appeals, you are sure to find something you love. Replacing siding is something most homeowners do only a few times in their lives. Do it right, adding decades of beauty, comfort, and energy efficiency to your home. Durable and energy-efficient siding is not only an excellent and practical investment but also adds lasting beauty. You can be confident your home will retain its value for many years.
We believe we offer the best siding options for our climate. Contact HomeWise Roofing & Exteriors for a free siding estimate today by calling 402-502-5050. Regardless of the manufacturer you choose for your siding, our residential and commercial customers can rest assured that our products are of the highest quality.