Thinking about replacing your Omaha-area roof sometime soon? The Midwest is subject to some nasty weather conditions, so before you get too caught up in the style and design you want, you'll need to look at what material suits your home best. As the roofing industry introduces new materials and products, it can be overwhelming making a choice both practically and personally. Here is a quick reference guide to four popular roofing shingles to help you pick the perfect roof for your home:
Asphalt
To say that asphalt shingles are popular is a huge understatement as over 75% of homes in the United States are covered with this type of shingles. Here's why: They're affordable, easy to install, come in a variety of colors, are surprisingly durable, and many brands carry warranties up to 40 years.
There are two basic kinds of asphalt shingles: organic-based shingles and fiberglass-reinforced shingles. Organic-based shingles are typically reinforced with wood or cellulose and are typically less expensive. Fiberglass-reinforced shingles are lighter in weight, last longer and are more resistant to fire. Asphalt shingles also come in two categories: three-tab shingles and architectural-style shingles. Standard three-tab shingles are basic and generic. Each shingle is a single layer thick and has two narrow slots, creating the three tabs. Architectural-style shingles consist of two strips laminated together. They are a dramatic improvement from three-tab shingles in terms of visual impact, but also in durability.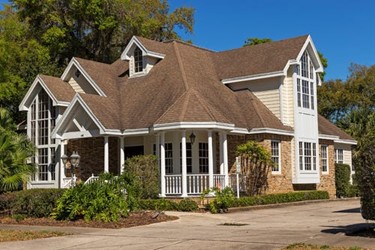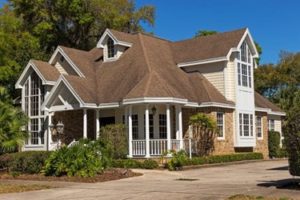 Composite
Composite shingles are growing in popularity for a number of reasons. They mimic the look of natural shingles such as wood or slate, but are made of polymer, rubber, or plastic. Composite shingles also come in a variety of colors and retain their color over their lifespan of 50+ years. These resilient shingles are rot-proof, weather-proof, fire-resistant and virtually indestructible. They also come with additional defenses like moss and UV protection.
The downside? Cost and installation. Composite shingles cost about three to four times more than asphalt shingles but provide more protection than asphalt or traditional natural materials like cedar. Installing composite shingles is similar to asphalt, but there are few roofers with experience installing this material. Lucky for you, the HomeWise Roofing and Exteriors team is experienced in installing composite shingles.
Slate
Although there are many materials that look like slate shingles, nothing compares to the real thing. Natural slate shingles have proven their durability since the 1600s. Slate is fireproof, hail-proof, and moisture resistant. Slate can withstand large volumes of snow, rain, and hail, making them a good choice for homeowners in the Midwest. And when installed properly, this type of roof can last over 100 years.
Although slate shingles have unbeatable durability, the catch is the cost. Slate roofs are expensive as slate itself is rare and must be delivered from a quarry. It is also difficult and timely to install as the material is extremely heavy.
Metal
Metal, like composite, has been growing in popularity in recent years. Its ability to reflect sunlight and resistance to rain, rot, wind, and fire make it an apt choice for homeowners in the Midwest. Metal roofing can even be installed over your existing shingles if they are in good condition to avoid costs associated with tearing down a roof for a fresh start.
Although metal roofing is lightweight, installation and repair can be more difficult than with other materials. Depending on the metal (typically made from aluminum, steel, copper, zinc or alloy), it could be prone to denting from hail and can be pretty noisy from rainfall. Although trendy, metal roofs are not the best material for cost or curb appeal.
Now that you've learned about different types of shingles, you can get a better understanding of what material is best suited for your home. At HomeWise Roofing and Exteriors, our team will communicate with you and ensure we give you all the options to fit your needs. No matter what you choose, we guarantee you will be satisfied with the product and our warranty. Ready to take the next steps in installing a new roof in Omaha? Reach out to our team today. We'd love to help.