Spring and summer have flown right on past us, picking up incredible speed as each season passes. As we roll into fall and look forward to cooler days, football, harvest festivals, and the approaching holidays, now is the perfect time to get your home prepared for all the events and festivities to come.
How Important is an Exterior Clean-Up?
All summer long, the foliage in your yard has been growing rapidly, and most of those leaves are about to shed and cover your yard. Those beautiful autumn colors, once they hit the ground, can entrap moisture, which may damage trees, the lawn, and the foundation of your home.
Unmitigated gaps in exterior home features can cause significant energy leaks, causing a spike in your utility bills and providing an open invitation for six-legged pests looking for their winter accommodations.
Damage to your home's structure, such as damaged wood, missing roof shingles, and rain gutter clogs can all lead to expensive repairs after the snow melts.
Convinced? Let's take a look at that exterior clean-up to-do list and get to it!
Structural Assessment
Begin with the house itself. Taking a critical look at every facet of the structure will enable you to find potential damage or any arenas that are compromised in any way before they become big problems.
Have the chimney and fireplace inspected before first use.
Check the roof for damaged or missing shingles.
Clean out crevices where leaves and straw accumulate, and pay special attention to the back side of the chimney, dormer windows, and the intersection of different rooflines.
Have your HVAC serviced. Many companies offer bi-annual maintenance servicing at competitive prices.
Inspect gutters for cracks and leaks and remove all accumulated debris. Consider installing gutter guards to keep all of the falling leaves out.
Check windows' and exterior doors' weatherstripping and seals. Seal up any gaps to keep out those frosty drafts.
Inspect the condition of the home's overall exterior, looking for peeling paint, water damage, foundation cracks, etc. and get those repairs taken care of right away.
Perform deck maintenance. Check for a settling foundation and shore up any unstable supports. Check for pest nests and remove them. Replace damaged boards and thoroughly clean the deck. Applying a weatherproofing stain will provide protection from the winter's snow.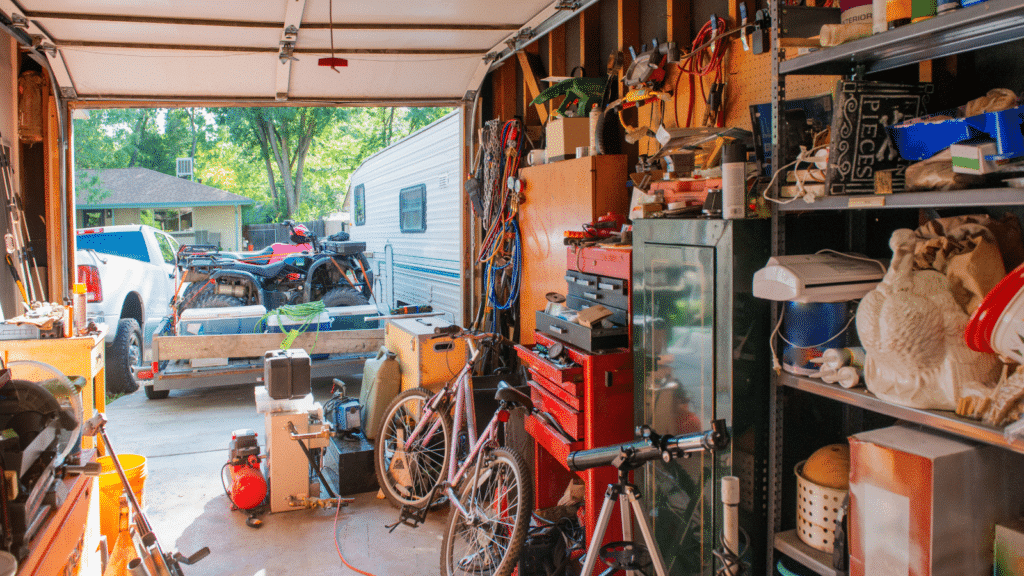 Storage Spaces
Yes, these tasks are ones we'd much prefer to ignore, but storage sheds, garages, and the like need a thorough clean-and-purge this fall.
Pull out the contents of the storage area and assess the condition and value of the items. If they haven't been touched for a year, do you really need to keep them? Sell or donate what you don't need and throughout what is beyond repair.
Thoroughly clean the interior, removing spider webs and pests. If you have many things on the floor, consider adding more shelving or hanging storage units. Stockpiles of items on the ground invite rodent squatters to bed down for the winter.
Organize and put away seasonal items and equipment that won't be needed until spring.
Tools and Toys
Performing maintenance and clean up on tools and toys will help them stay in peak operation and keep you ready for spring when it returns.
Drain all outdoor water-holding items, including water hoses, irrigation pipes, fountains, and faucets. Bursting pipes or destroyed implements from a hard freeze are a completely avoidable expense.
Drain and close off the swimming pool.
Clean and put away patio furniture.
Service the lawnmower, including having the oil changed and sharpening the blades.
Find and prepare winter implements, such as snow shovels and sleds and make sure they are readily accessible.
Put away those citronella candles, tiki torches, and summer decor. It's time to break out autumn-themed items.
Clean tools and coat with linseed oil to prevent wintertime rusting.
Clean out those outdoor cans. Use an antibacterial soap and hot water. Swirl the mixture around the interior and dry it in the sun. Follow up with a deodorizing antibacterial spray.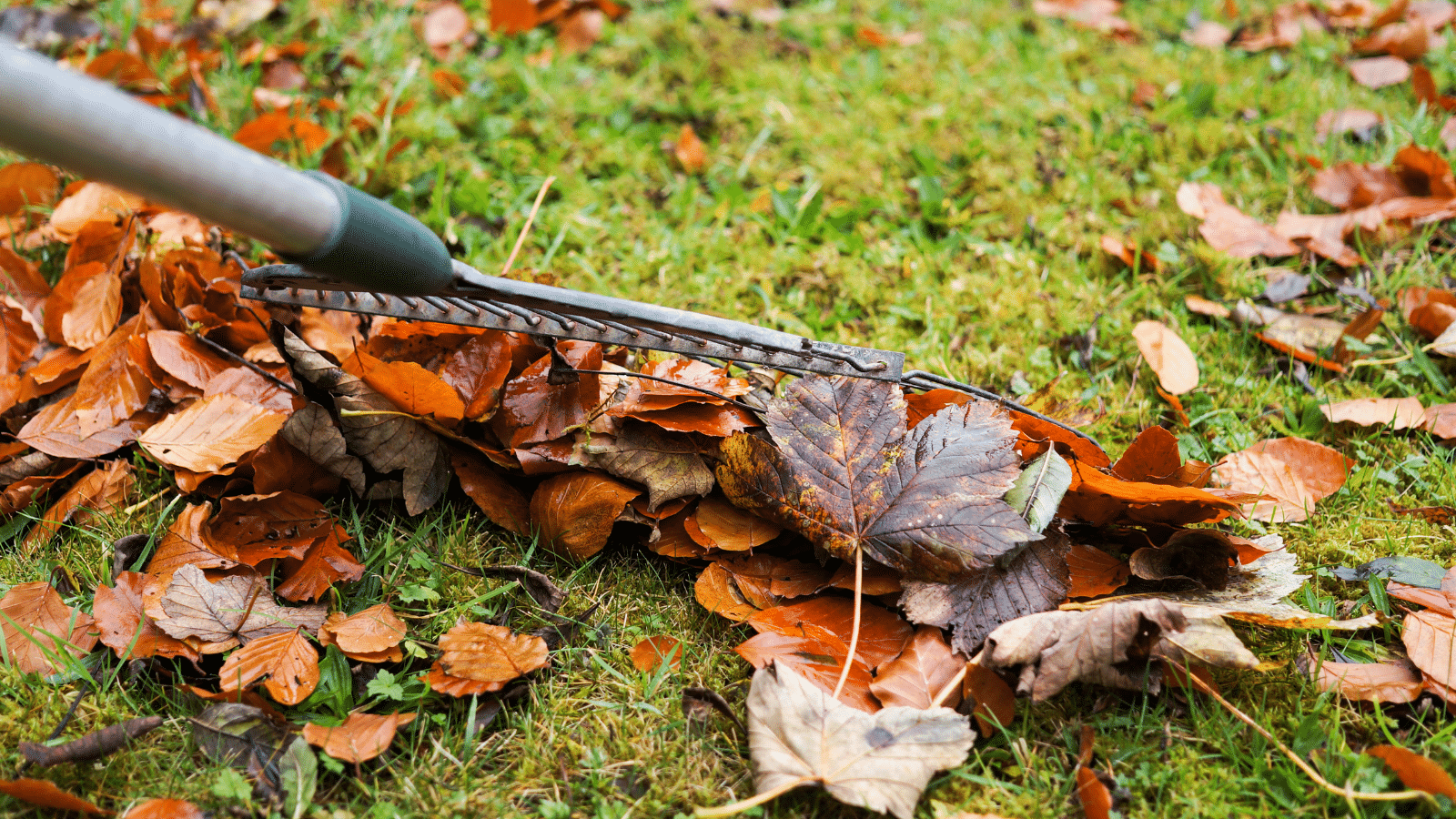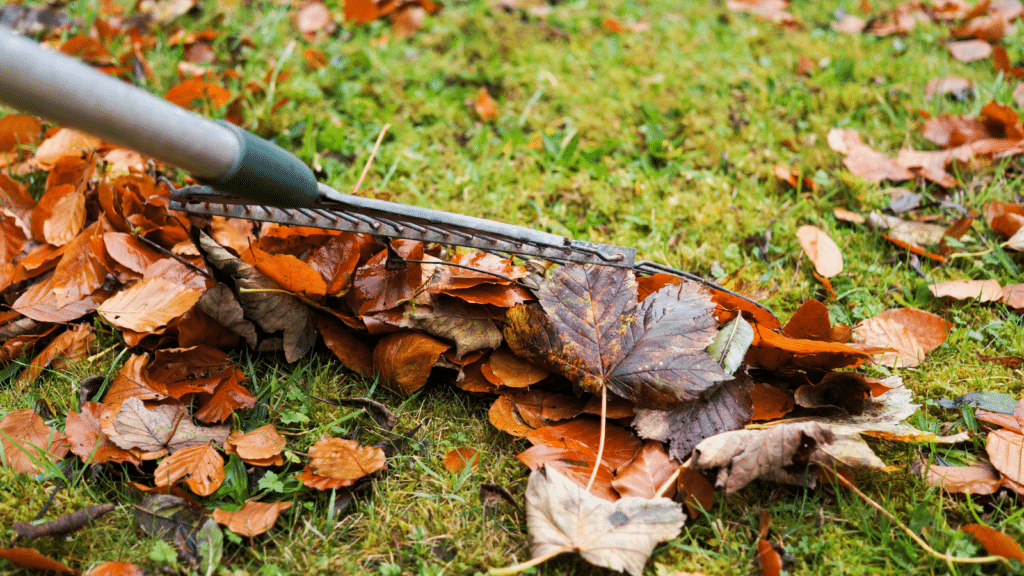 Lawn Care
Fall is the most pleasant season for working in the yard, and some maintenance now will give you a show-stopping landscape come springtime.
Trim trees and plants away from the house.
Remove dead plants and leaves from gardens.
Cover plants that will need protection from the cold (or pot them and bring them inside for the winter).
Clean up leaves, especially away from the foundation, where they hold in moisture and can cause damage. Using a leaf blower is more effective than raking, and it should be a time-saver too.
Prune ornamentals and remove dead branches.
Aerate the lawn for better drainage and root growth.
Fertilize the lawn with a phosphorous-dense fall fertilizer. This will stimulate root growth.
Add mulch to flower beds to provide nutrients, assist with weed control, and a layer of insulation to protect vulnerable roots.
Divide and prune perennial flowers if they grew abundantly. This is only for spring and summer perennials. Flowers that bloom in the fall should be pruned in the spring.
Wrap barrier cloths around the less hardy plants to prevent freeze damage.
Plant bulbs for springtime blooms.
General Exterior Clean-Up
Get your exterior sparkling like new and primed for holiday decorating.
Sweep walkway, steps, porch, etc.
Wash windows.
Power wash siding, driveways and sidewalks.
You deserve a break
After all of this hard work, you deserve to relax with your family around the backyard fire pit and enjoy the beauty brought about by your labors. And remember, Homewise Roofing and Exteriors is here to help lighten your load. Whether you need upgraded windows or roof repair, our skillful technicians can have your home in peak condition in no time. Give us a call today.