Have you reached the point where your house needs a roof replacement? You have read roof replacement articles, do's and don'ts, and countless tips and tricks. You're wondering if a DIY roof installation is suitable for you. You've probably looked up the average price of a roof replacement, which leads you to question whether or not you can do it yourself. The reality is roof replacements are expensive, but there is a reason for that.
Roof replacement takes a lot of work and materials, and the working conditions add to the price. So, naturally, you start wondering whether you can do the replacement on your own. The main rule of thumb here is to work with the replacement on your own if you have enough expertise and if the situation is minor, but a professional team is best if the process might be more extensive or brutal to work with.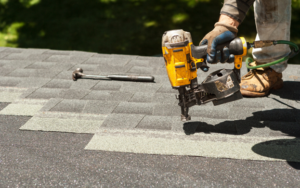 When can you do a DIY roof replacement?
You can replace parts of your roof if you notice any slight leaks. These include spots where water is dripping in a small space.
Replacing individual loose shingles is something you can do on your own. You can do this if there is just a small patch of shingles that needs to be replaced.
Think about how well you understand the roof replacement process. Of course, you can always work with this on your own if you have the materials needed, but it is best when working in a smaller space.
You must watch how the shingles around your roof are laid out and if they are shedding their materials. A full inspection of your gutters might be required at this point. This would require extra effort and might require you to remove and replace your gutters if necessary.
Replacements work on your own if you have not added any layers to your roof and your roof is less than fifteen years of age. You would have to check your local homeowner's association to see if you can get a new layer added without undergoing extensive repairs in your local area.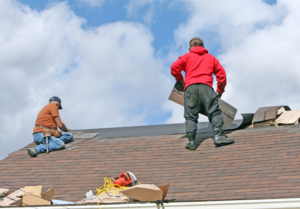 When should you hire a professional contractor?
Professional roof replacement employees work best on larger surfaces and on steep and complicated roofing surfaces.
Contact a professional if the leaks around a roof are too strong or if there are too many of them scattered around the roof.
Contact a professional if you have too many shingles around your roof that need to be replaced. This could signify the shingles being too weak in a few spots.
A professional team will help you if you struggle to find the shingles you need for your roof. It is best to get a team to replace your entire roof if you are unable to find matching shingles that fit on your existing roof.
You should also contact a professional team if there is more than one layer of shingles on your roof. At this juncture, you would surely have to replace your roof entirely just to get it taken care of properly.
DIY roof replacements are easier and faster than professional ones, but they are less effective and put you at risk of more issues. To summarize, don't do a complete replacement on your own – it's not safe for you and your family. Instead, if the problem is small and you know exactly what caused it, then repair it while following safety measures.
If you're ready to start your search for a roofing contractor, start with HomeWise Roofing & Exteriors. HomeWise Roofing & Exteriors can get your job done efficiently with excellent workmanship.